EM15-SP Series Solar Inverter

| | |
| --- | --- |
| Desc.: | EM15-SP series solar inverter is high-efficiency solar water pump contr oller, which with high MPPT efficiency,green environmental protection,economic and energy saving,widely use for agricultural irrigation,water supply syst em and etc. |
Feature
Support voltage and power range: Single phase or three phase 220V, Three phase 380V; Power is from 0.75kW to 400KW.

Easy to use, built in water pump protection functions.

The water level detection functions, which can support terminal /analog detection.

PV power, PV current, pump flow rate and other operating parameters are accurately displayed.

All series of products can realize the switching of AC power supply or PV power supply to meet the 24-hour work;

Accurate and fast MPPT algorithm tracking PV battery maximum power point, ensure 99% solar power tracking efficiency

Support for basic function of inverters, such as terminal control start and stop, RS485 communication, which can remoteoperation and monitoring.

Battery-free design, suitable for various applications, easy to maintain.

Perfect protection function: with automatic dormancy function, low frequency protection, overcurrent, overload protection andother protection functions, can effectively prolong the product life.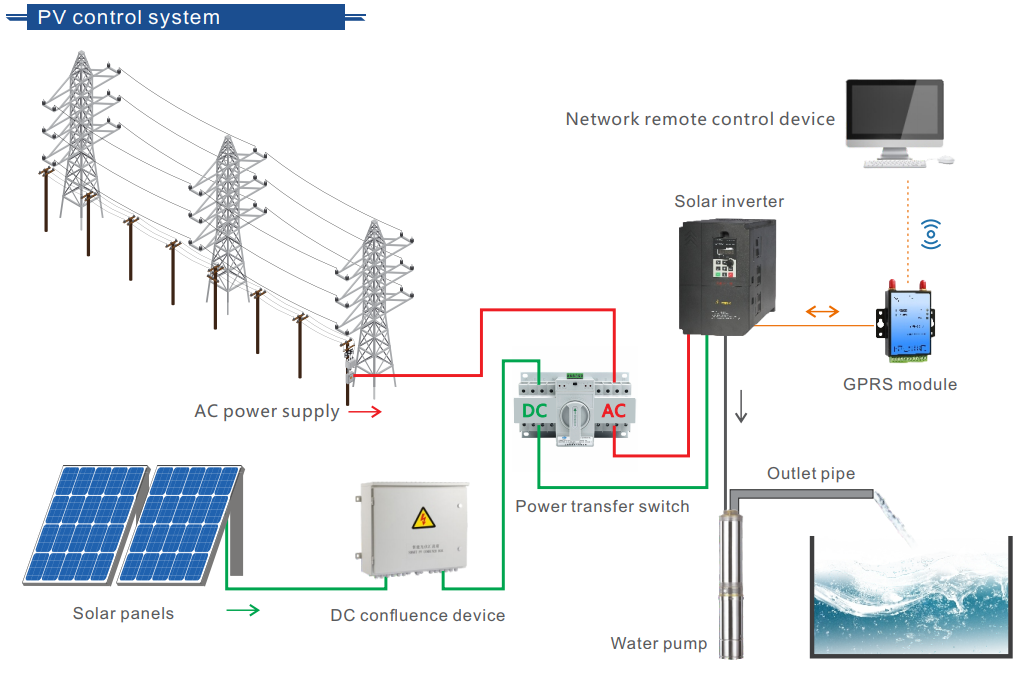 EM15-SP1

Description

d75

1d5

2d2

004

5d5

7d5

011

015

018

022

030

037

045

DC input (+, -)

Rated power/KW

0.75

1.5

2.2

4

5.5

7.5

11

15

18.5

22

30

37

45

Min. DC voltage/V

120

Max.DC voltage/V

430

Recommended MPPT range /V

150~350

AC output(U, V, W)

Output current/A

3.8

7

9

17

25

32

45

60

75

91

112

150

176

EM15-SP3

Description

d75

1d5

2d2

004

5d5

7d5

011

015

018

022

030

037

045

055

075

090

110

132

160

200

220

250

280

315

355

400

DC input (+, -)

Rated power/KW

0.75

1.5

2.2

4

5.5

7.5

11

15

18.5

22

30

37

45

55

75

90

110

132

160

200

220

250

280

315

355

400

Min. DC voltage/V

280

Max.DC voltage/V

750

Recommended MPPT range /V

300~650

AC output(U, V, W)

Output current

2.1

3.8

5.1

9

13

17

25

32

37

45

60

75

91

112

150

176

210

253

304

377

426

465

520

585

650

725

Output frequency

0~50/60Hz

Power factor

>0.99

Communication mode

RS485 communication

Protection class

IP20

Ambient temperature

-10℃~ +40℃(ambient temperation at 40℃~50℃,please keep derated use)

Storage temperature

-20℃~ +60℃

Humidity

Smaller than 95%RH, non-condensation

Cooling

Forced Air cooling

Altitude

Lower than 1000 m

Humidity

Less than 95%RH, without condensing

Vibration

Less than 5.9 m/s2 (0.6 g)